Introduction to Open English
Welcome to the world of Open English – a comprehensive online platform that allows you to learn English from the comfort of your own home. Whether you're a beginner or want to improve your fluency, Open English has got you covered! Say goodbye to traditional classrooms and hello to flexible learning. With their innovative approach and interactive lessons, mastering the English language has never been easier. So put on your virtual learning cap and join us as we take a closer look at what Open English has in store for you!
What Does Open English Offer?
If you're looking to learn English from the comfort of your own home, then Open English is here to help. With a wide range of courses and resources, this online platform offers a comprehensive learning experience for students of all levels.

Open English provides interactive lessons that cover various aspects of language learning, such as grammar, vocabulary, listening comprehension, speaking practice, and writing skills. Whether you're a beginner or an advanced learner, there's something for everyone.

One standout feature is the ability to take live classes with experienced instructors who are native English speakers. This allows you to practice your conversational skills in real-time and receive immediate feedback. Additionally, the classes are small in size which ensures personalized attention from the instructor.

Another advantage of Open English is its flexible schedule. You can access the course materials and join live sessions at any time that suits you best. This means that even if you have a busy work or personal life, you can still fit in your language learning sessions without any hassle.
How Does Open English Work?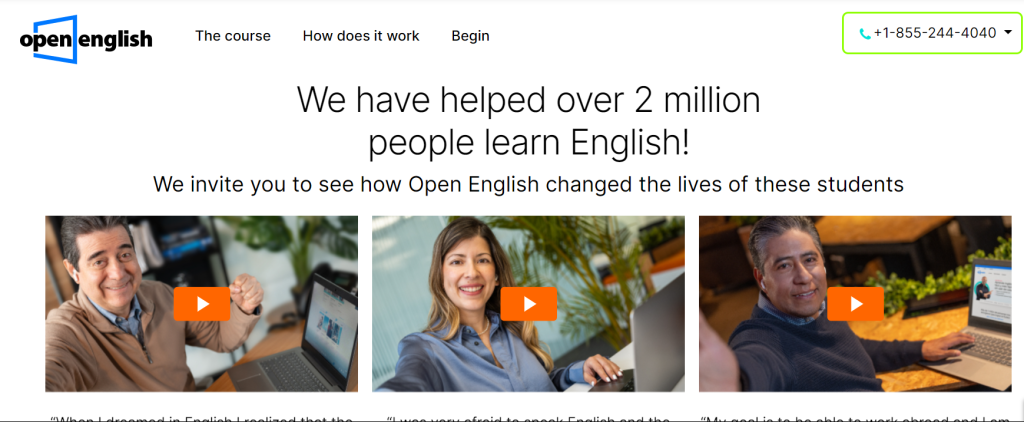 Open English offers a unique and interactive platform for learning English. The program is designed to accommodate busy schedules and provide flexibility in the learning process.

When you enroll in Open English, you gain access to a variety of resources such as video lessons, live classes with native-speaking teachers, and practice exercises. These materials are available 24/7 so that you can learn at your own pace.

The curriculum focuses on all aspects of language acquisition – speaking, listening, reading, and writing. Through engaging lessons and real-life scenarios, Open English helps students develop their communication skills effectively.

One of the key features of Open English is its personalized approach to teaching. Each student receives individual attention from qualified instructors who monitor progress and provide feedback accordingly.

Furthermore, Open English incorporates technology into its methodology by utilizing an online platform that allows students to interact with both teachers and fellow learners. This fosters a sense of community while enhancing the overall learning experience.
Why Choose Open English?
Flexibility is one of the key reasons to choose Open English as your go-to platform for learning English. With this online program, you have the freedom to study at your own pace and from the comfort of your home. No more commuting to language centers or adhering to strict schedules.

Another reason is the wide range of interactive materials offered by Open English. From video lessons and quizzes to live conversations with native speakers, there are plenty of resources available that cater to different learning styles. This ensures that you can find a method that works best for you.

Moreover, Open English provides personalized feedback on assignments and progress tracking tools. These features enable you to monitor your improvement over time and identify areas where you need additional practice.

The convenience factor cannot be overlooked either. Whether you're a busy professional or a stay-at-home parent, Open English allows you to fit language learning into your daily routine without disruption.
The Pros and Cons of Open English
When it comes to learning English online, Open English offers a range of benefits. One of the biggest advantages is the flexibility it provides. You can access their platform anytime, anywhere, which means you can learn at your own pace and fit your studies around your schedule.

Another pro is the personalized approach that Open English takes. They offer one-on-one lessons with native English-speaking teachers who tailor their instruction to meet your specific needs and goals. This individualized attention can greatly enhance your language proficiency.

Open English also provides an immersive experience through their virtual classroom setting. By interacting with other students from around the world, you have ample opportunities to practice your speaking skills and gain cultural insights.

However, like any educational program, there are some downsides to consider as well. One potential con is that Open English requires a subscription fee for full access to all their resources. While this investment may be worthwhile for serious learners, it might not be ideal for those on a tight budget.
Is Open English Right for You?

Now that we have explored the ins and outs of Open English, you may be wondering if it is the right fit for you. The answer ultimately depends on your personal learning style, goals, and preferences.

Open English offers a convenient and flexible way to learn English from the comfort of your own home. If you are someone who prefers self-paced learning and enjoys the convenience of studying whenever and wherever you want, then Open English could be a great choice for you.

Additionally, if you thrive in an interactive and engaging online environment with access to experienced teachers and a supportive community of fellow learners, then Open English can provide just that. The platform's live classes allow for real-time interaction with instructors which can greatly enhance your language skills.

However, it is important to note that Open English may not be suitable for everyone. If you prefer traditional classroom settings or face-to-face instruction, this online format might not meet your needs. Learning solely through virtual means requires discipline and self-motivation as there are no physical classrooms or peers physically present alongside you.

Another factor to consider is whether or not the cost aligns with your budget. While Open English does offer various subscription plans at different price points, it is still an investment in yourself and your education.

Before making a decision, take some time to evaluate your specific requirements as well as what motivates you in terms of language learning. Research other options available to compare them against what Open English has to offer.