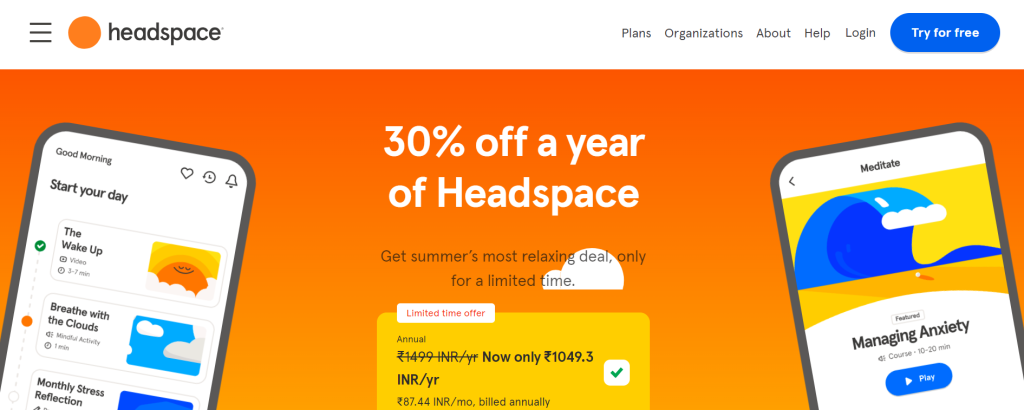 Introduction
Welcome to the era where taking care of our mental health is just as important as physical fitness. In a world that never seems to slow down, finding moments of peace and tranquility can feel like an elusive dream. But fear not, because Headspace is here to guide you on a transformative journey towards improved mental well-being through meditation and mindfulness techniques.

In this blog post, we'll delve into what makes Headspace the go-to platform for millions seeking solace in their busy lives. From understanding how it works to exploring the science behind its effectiveness, we'll uncover why Headspace has become synonymous with mental wellness in today's fast-paced world.

So grab a cozy spot, take a deep breath, and let's embark on this virtual exploration of Headspace!
What is Headspace?
Headspace is a digital platform that offers meditation and mindfulness techniques to help improve your mental well-being. It provides guided meditations, sleep sounds, breathing exercises, and other tools designed to promote relaxation and reduce stress.

With Headspace, you can access a wide variety of meditation sessions tailored to different needs and preferences. Whether you're new to meditation or an experienced practitioner, there are options available for everyone. The app also offers specialized programs focusing on specific areas such as stress management, anxiety relief, better sleep, and more.

One of the great things about Headspace is its user-friendly interface. The app has a clean design with easy navigation which makes it simple even for beginners to get started. You can choose from various session lengths ranging from just a few minutes to longer durations depending on your availability and preference.

Headspace also integrates mindfulness into everyday activities with mini-meditations that you can do during daily tasks like walking or eating. This allows you to incorporate mindfulness practice into your busy schedule without feeling overwhelmed.

Another noteworthy feature of Headspace is its Sleep section which includes soothing sounds and bedtime stories specifically designed to help you relax and fall asleep easier.

In addition to the mobile app, Headspace also offers online content through their website including informative articles on mental health topics as well as resources for educators interested in incorporating mindfulness practices into schools.

Headspace provides accessible tools for improving mental health by promoting meditation and mindfulness practices in an engaging way. With its user-friendly platform and diverse range of features, it's definitely worth considering if you're looking for ways to enhance your overall well-being through these techniques.
How Headspace Works


Headspace is a user-friendly meditation and mindfulness app that aims to help individuals transform their mental health. But how exactly does it work?

Headspace offers guided meditation sessions led by experts in the field. These sessions are designed to be accessible for all, regardless of your level of experience or knowledge about meditation. The app provides a wide range of topics and themes to choose from, allowing you to focus on specific areas such as stress reduction or improving sleep.

The app also incorporates interactive elements that make the practice more engaging. For example, there are animations and illustrations that accompany the guided meditations, making it easier for users to visualize concepts like breathing techniques.

In addition to guided meditations, Headspace offers mini-exercises called "mini-moments" which can be done anytime throughout the day. These include short mindfulness activities aimed at helping you stay present and calm in various situations.

Furthermore, Headspace provides personalized recommendations based on your goals and preferences. It tracks your progress over time so you can see how much you've achieved along your mental health journey.

With its user-friendly interface and variety of features, Headspace seamlessly integrates into daily life while providing valuable tools for enhancing mental well-being.
The Benefits of Headspace
Using the Headspace app can bring a multitude of benefits to your mental wellbeing. One major advantage is that it helps to reduce stress and anxiety. By incorporating meditation and mindfulness techniques into your daily routine, you can find a sense of calm and peace amidst the chaos of life.

Another benefit is improved focus and concentration. Regular practice with Headspace can enhance your ability to stay present in the moment, which can ultimately lead to increased productivity in various aspects of your life.

In addition, Headspace has been shown to improve sleep quality. By practicing guided meditation before bed, you can relax your mind and body, allowing for a more restful night's sleep.

Furthermore, using this app on a regular basis may also boost creativity. The practice of mindfulness encourages us to tap into our inner thoughts and feelings, leading to fresh ideas and innovative thinking.

One often overlooked benefit is the sense of community that comes with using Headspace. Through their online forums and social media groups, users are able to connect with like-minded individuals who share similar goals for improving their mental health.

So why not give it a try? Explore all these amazing benefits by starting your own journey with Headspace today!
The Science Behind Headspace
Meditation and mindfulness have gained significant attention in recent years, with countless studies suggesting their positive effects on mental health. But what exactly is the science behind Headspace?

Headspace takes a scientifically backed approach to meditation and mindfulness. The app provides guided meditations that are designed to train your mind and increase self-awareness. These techniques have been shown to reduce stress, improve focus, enhance creativity, and promote overall well-being.

One of the key scientific concepts behind Headspace is neuroplasticity. This refers to the brain's ability to change and adapt throughout life. Research has found that regular meditation can actually reshape neural pathways in the brain, leading to improved cognitive function and emotional regulation.

Additionally, studies have shown that meditation can help decrease activity in areas of the brain associated with anxiety and stress response while simultaneously increasing activity in regions linked to attention control and positive emotions.

Furthermore, research has demonstrated that consistent practice of mindfulness techniques like those taught by Headspace can lead to physical changes in the brain structure itself. For example, increased gray matter density has been observed in areas responsible for memory formation, emotion regulation, empathy, and stress reduction.

In conclusion…

By combining ancient wisdom with modern science-backed methodologies, Headspace offers an effective tool for transforming your mental health through meditation and mindfulness practices. The scientific evidence supporting its benefits is compelling enough reason for anyone seeking a more balanced state of mind to give it a try!
How to Get Started with Headspace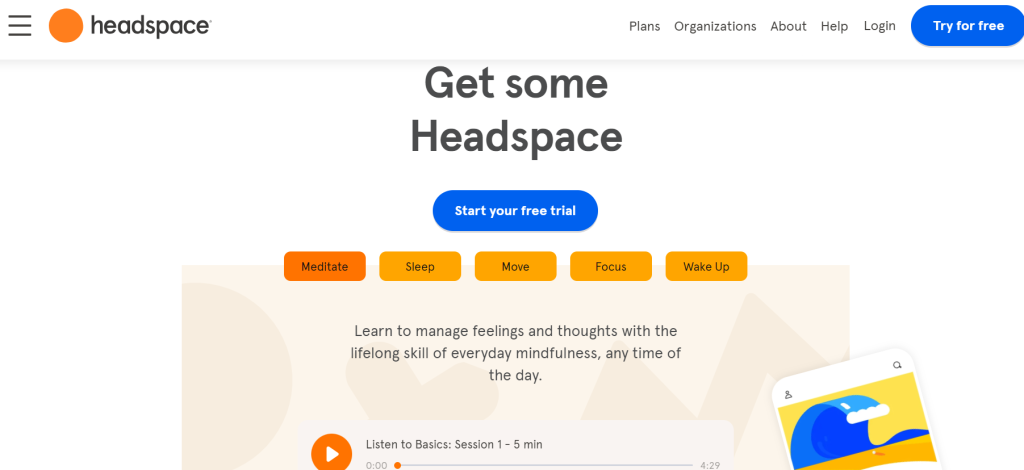 Getting started with Headspace is easy and convenient. Whether you're a beginner or more experienced in meditation, the app offers various programs to suit your needs. To begin your journey towards transforming your mental health, follow these simple steps:

1. Download the Headspace app: Available on both iOS and Android devices, you can easily download the app from the App Store or Google Play.

2. Sign up for an account: Create a new account using your email address or social media accounts like Facebook or Google.

3. Choose a subscription plan: While there are some free features available, unlocking full access to all of Headspace's content requires a paid subscription plan. They offer monthly and yearly plans at affordable prices.

4. Set aside dedicated time: Find a quiet and comfortable space where you can practice meditation without distractions.

5. Select a program: Browse through the wide range of guided meditations and mindfulness exercises available on Headspace to find one that resonates with you.

6. Start meditating: Follow along with the guided sessions provided by Headspace's expert teachers as they lead you through different techniques designed to cultivate mindfulness, manage stress, improve sleep quality, boost focus, and enhance overall well-being.

7. Track your progress: As you continue practicing meditation regularly with Headspace, take advantage of their tracking feature that allows you to monitor your progress over time and celebrate milestones reached along the way.

Remember that consistency is key when it comes to reaping the benefits of meditation and mindfulness practices offered by Headspace. Make it a habit in your daily routine for optimal results!

So why wait? Take charge of your mental health today by embarking on this transformative journey with Headspace! Discover how regular meditation practice can bring about positive changes in every aspect of your life – from reducing stress levels to fostering inner peace – all within reach through this user-friendly app.

Don't miss out on experiencing firsthand what millions around the world have already discovered – the power of meditation and mindfulness techniques to enhance mental well-being